A couple of weeks ago, I was in Paris to attend the EASI-Clouds partners' meeting called to form a common vision of the project. This was an interesting day with full of presentations, discussions, and debates. It was decided that the overall objective of EASI-Clouds is not to focus on "Yet Another Cloud Stack"; rather to address the grand challenge of how different clouds may interoperate in order to support seamless migrations among dozens of public and private clouds of applications, platforms, infrastructures, and data. All key representatives from the five countries involved in the consortium were present.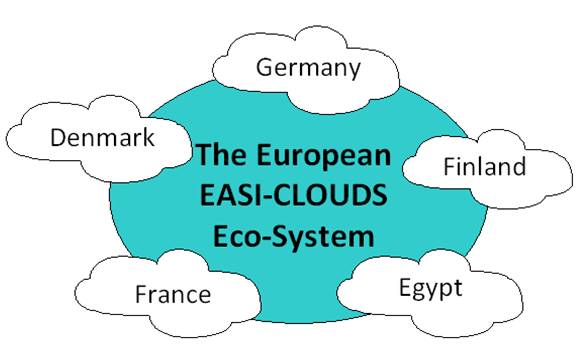 Along with Alexandra Institute, we are still strengthening the Danish consortium for this project. Are you interested and/or exploring the opportunities and risks involved in adopting Cloud-enabled software services and infrastructures? Then, you may like to discuss with us the possibility of joining Danish consortium for participating in this exciting and challenging European level initiative aimed at building critical knowledge, technologies, and expertise in developing and leveraging next generation of Clouds of computing infrastructures and software services.

A group of industrial, research, and academic organizations from five different countries have set up an industry-driven and industry-led consortium to carry out a large scale R&D project. The overall goal of EASI-Clouds consortium is to play a major role in creating state-of-the-art knowledge, technological infrastructure, and competency for helping European companies in business innovation by building world class Cloud-aware infrastructure and services. Focus area of R&D are:
• Cloud eco-systems – business models and applications
• Cloud methods, models, policies, standards
• Cloud software architecture – architecture, design and configuration
• Cloud software stack – implementation and integration
• Cloud interoperability and standardization
If you are interested in knowing more about this project or other Cloud computing related R&D activities that I am undertaking, I'll be happy to discuss with you what we are doing and what we intend to do to help build organizations' competencies to explore the promises of this emerging paradigm by understanding and managing the risks involved.